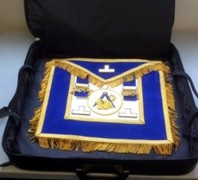 The Online Masonic Apron Case, Regalia, Rings & Gift store!
Serving the Masonic Fraternity – owned and operated by Freemasons
Masonic Supply Shop is a distributor of quality Masonic Apron Case and other Masonic regalia and supplies at competitive prices, serving the Masonic fraternity. Please do not hesitate to contact us for either a quotation or assistance regarding your order or our products.
We are adding more products every month. Please check back at our website frequently.

Secure Checkout – We Accept Secure Credit Card Payments (VISA, MasterCard), PayPal and Lodge Checks and we are pleased to offer International Shipping.
Good Quality Masonic aprons should never be folded over, always keep you apron store flat in a case.
Masonic Apron Case Categories
New Masonic Apron Cases
Royal Blue Master Masons Apron

Royal Blue Master Master Apron with Gold Fringe
Made of Leather with traditional heavy Ornaments ( balls ..
Price: $149.95
Good Quality Silk blend tie with a "hidden wave design" Square & Compass with G in Green

These have a very subtle pattern and you can only see the SQ & C as the light hits it... very classy ...
Price: $28.95
Chairman Style Presentation Wooden Gavel with Engraving
Worshipful Master Square
Beautiful old fashioned Design Officer Col..
Price: $49.95
Senior Wardens Level Rule
Beautiful Old fashioned Officer Collar jewels with Scrollin..
Price: $49.95
Junior Wardens Plumb Rule
Beautiful old fashioned Officer Collar jewels with Scrollin..
Price: $49.95
Royal Arch Penny
Mark Penny
"To Every Master his Mark"
An old fashion Traditional Brass Penny
1.1/4 dia
Price: $5.49